The Outlaw Saloon and Grill
A little about us and a brief history on how we started
The Outlaw Saloon and Grill
A little about us and a brief history on how we started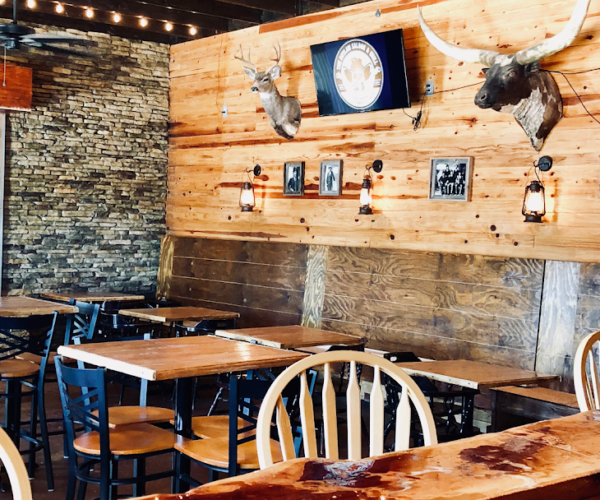 Welcome to The Outlaw Saloon and Grill located in San Elizario. We offer our guests the best Food and Entertainment in the service industry. Fun is our goal and ensuring you are able to make long lasting memories. We offer Live Music, Delicious Food, all in one place, along with so much more. So just stop in and see us to find out more!
One of the greatest assets we have about our steak and our grill places is our ingredients! We have always been passionate about bringing the best flavors to our dishes and offer you the best time while at your stay here! However, you may be asking yourself how do we bring the best ingredients to your plates? Well, all our ingredients are local! We use the freshest ingredients by other local areas so we help our community well serving you the best in quality food.
We are always looking for new and exciting people to join us and increase the fun. Tell your friends and family about the great times you've had at the Outlaw Saloon and Grill Saloon using the social media icons at the top!! And if you have any questions about our menu and what days we offer what, call us at (915) 288-4457 to answer any questions you may have!

Today's Special
Come today and have this special dish by our chefs
Chicken Tender Basket
If you're a fan of fried chicken, then you'll love our tenders served with a side of waffle fries and ranch dipping sauce.
One of specialties when it comes to our famous cooking, is our chicken tender basket! Cooked to perfection and crispiness, we batter our chicken up with a mountain of seasoning and served with your choice of dipping sauces! Comes with waffles fries as well!

ORDER NOW
OUR MENU
RESERVATION
Book a table online. Leads will reach in your email
You can also call
(915) 288-4457

to make a reservation
Our Features
LITTLE THINGS MAKE US THE BEST IN TOWN
We offer the best service and the best food all at the same time! We hand-craft and make everything with a bit of love, so you can taste the passion in our food and services!
Our environment matches the quality of our food: big and flavorful. Our space is full of what you look for in a steak house to give you the comfort and confidence to eat!
Unlike some of the other steak houses you've been to, we offer a wide variety of different selections, so you can be satisfied no matter what you choose to eat here.
Our Menu
Look into the amazing options we offer our guests
Chips & Queso                                                                     
4
Crisp corn tortilla chips with our signature Licon Chile con Queso
Loaded Fries                                                                        
4
Basket of waffle fries covered in chile con queso & bacon bits
Outlaw Steak Rolls                                                              
5
Steak requeson (Containing diced jalapenos & bacon) melted asadero cheese wrapped in a egg roll. Served with spicy ranch dipping sauce
Billy the Kid Nachos                                                            
6
Tortilla chips layered with beans, ground beef, jalapenos, shredded lettuce, tomatoes, smothered in chile con queso
Jesse James Poppers                                                           
5.5
Not your average poppers. Hatch green chile battered & fried, topped with local pecans. Served with homemade ranch dipping sauce
Bone-In Wings                                                                     

   6 Pieces                             8

   12 Pieces                        
14
Boneless Wings                                                                     

   6 Pieces                            8

   12 Pieces                       
14
Sauces: Plain, Mild, Hot, Outlaw Hot, Lemon Pepper, Spicy BBQ, Mango Habanero, Honey Hot
All- American Cheeseburger                                               11

Melted American Cheese
Crispy Relleno Burger                                                         12

Crispy relleno, stuffed with Licon Azadero, smothered in chile con queso. This burger is stacked and a favorite
Quesadilla Burger                                                               12

The best of both worlds. Quesadilla double-layered & smothered with chile con queso
The Outlaw Burger                                                              12

Spicy queso habanero topped with our new sweet bacon jam. A contrast of flavors.
Hatch Green Chile Burger                                                     12

Melted Licon Azadero & Roasted New Mexico Hatch Chile
Papa's Requeson Burger                                                      11.5

Mr. Licon's unique requeson (cream cheese) recipe. Experience a contrast of flavors! Requeson mixed with diced jalapeno & bacon
Western BBQ Bacon Burger                                                  12

Bacon & onion chips. Topped with BBQ sauce and melted cheese
All burgers come with a side of waffle fries, substitute your waffle fries for sweet potato fries or onion rings for a dollar more*
(Fresh ground beef made daily, brioche toasted buns, mayo, lettuce, onions & tomatoes)
(Burger Add Ons: Extra Patty 1.5, Grilled Jalapenos 0.5, Bacon .75, Chile con Queso .75, Hatch Chile 1, Relleno 1)
The Lady Ribeye                                                                     
17
10 oz Ribeye cut fresh from the loin. Served with a dinner roll & any two sides of your choice
The Outlaw Ribeye                                                                  
27
16 oz Ribeye cut fresh from the loin. Served with a dinner roll & any two sides of your choice
Steak Sides: Ranch Style Beans, Waffle Fries, Onion Rings, Side Salad, Corn or Spicy Mac & Cheese*
Steak Tacos                                                                        
8
Three corn tortillas with marinated arrachera steak. Served with chopped lettuce, cheese, tomatoes & our homemade salsa. Side of ranch style beans
Chicken Tacos                                                                     
8
Three corn tortillas with diced chicken breast. Served with chopped lettuce, cheese, tomatoes & our homemade salsa. Side of ranch style beans
House Salad                                                                         
8
House salad topped with onions, shredded cheese, tomatoes & garlic croutons. Add chicken or beef for a dollar more
Buffalo Chicken Sandwich                                                     10

Spicy chicken breast sandwich on melted asadero cheese, topped with ranch, lettuce, onions & tomatoes, served with a side of waffle fries
Jr. Outlaw Burger                                                                 5

Kids size cheeseburger served with lettuce onions & tomatoes. Served with waffle fries
Grilled Cheese                                                                         6

Grilled cheese sandwich with American cheese and a side of fries
Chicken Tender Basket                                                           5

Fried chicken tenders served with a side of waffle fries and ranch dipping sauce
3 Leches/Choco Flan/Flan                               
3.5
Topped with caramel or chocolate
Spicy Mac & Cheese                                                           3

Ranch Style Beans                                                              1

Waffle Fries                                                                        2

Onion Rings                                                                       3

Corn                                                                                   1

Sweet Potato Fries                                                             3

Lemonade                                                                 
2
Tea                                                                            
2
Glass Coca Cola Products: Coke, Sprite, Fanta Pineapple, Fanta Strawberry, Fanta Orange, Topo Chico Twist & Lime
20 OZ Bottle: Diet Coke, Dr. Pepper                
4
Chips & Queso                                                                     

4

Crisp corn tortilla chips with our signature Licon Chile con Queso

Loaded Fries                                                                        

4

Basket of waffle fries covered in chile con queso & bacon bits

Outlaw Steak Rolls                                                              

5

Steak requeson (Containing diced jalapenos & bacon) melted asadero cheese wrapped in a egg roll. Served with spicy ranch dipping sauce

Billy the Kid Nachos                                                            

6

Tortilla chips layered with beans, ground beef, jalapenos, shredded lettuce, tomatoes, smothered in chile con queso

Jesse James Poppers                                                           

5.5

Not your average poppers. Hatch green chile battered & fried, topped with local pecans. Served with homemade ranch dipping sauce

Bone-In Wings                                                                     


   6 Pieces                             8


   12 Pieces                        

14

Boneless Wings                                                                     


   6 Pieces                            8


   12 Pieces                       

14

Sauces: Plain, Mild, Hot, Outlaw Hot, Lemon Pepper, Spicy BBQ, Mango Habanero, Honey Hot

All- American Cheeseburger                                               11


Melted American Cheese

Crispy Relleno Burger                                                         12


Crispy relleno, stuffed with Licon Azadero, smothered in chile con queso. This burger is stacked and a favorite

Quesadilla Burger                                                               12


The best of both worlds. Quesadilla double-layered & smothered with chile con queso

The Outlaw Burger                                                              12


Spicy queso habanero topped with our new sweet bacon jam. A contrast of flavors.

Hatch Green Chile Burger                                                     12


Melted Licon Azadero & Roasted New Mexico Hatch Chile

Papa's Requeson Burger                                                      11.5


Mr. Licon's unique requeson (cream cheese) recipe. Experience a contrast of flavors! Requeson mixed with diced jalapeno & bacon

Western BBQ Bacon Burger                                                  12


Bacon & onion chips. Topped with BBQ sauce and melted cheese

All burgers come with a side of waffle fries, substitute your waffle fries for sweet potato fries or onion rings for a dollar more*

(Fresh ground beef made daily, brioche toasted buns, mayo, lettuce, onions & tomatoes)

(Burger Add Ons: Extra Patty 1.5, Grilled Jalapenos 0.5, Bacon .75, Chile con Queso .75, Hatch Chile 1, Relleno 1)

The Lady Ribeye                                                                     

17

10 oz Ribeye cut fresh from the loin. Served with a dinner roll & any two sides of your choice

The Outlaw Ribeye                                                                  

27

16 oz Ribeye cut fresh from the loin. Served with a dinner roll & any two sides of your choice

Steak Sides: Ranch Style Beans, Waffle Fries, Onion Rings, Side Salad, Corn or Spicy Mac & Cheese*

Steak Tacos                                                                        

8

Three corn tortillas with marinated arrachera steak. Served with chopped lettuce, cheese, tomatoes & our homemade salsa. Side of ranch style beans

Chicken Tacos                                                                     

8

Three corn tortillas with diced chicken breast. Served with chopped lettuce, cheese, tomatoes & our homemade salsa. Side of ranch style beans

House Salad                                                                         

8

House salad topped with onions, shredded cheese, tomatoes & garlic croutons. Add chicken or beef for a dollar more

Buffalo Chicken Sandwich                                                     10


Spicy chicken breast sandwich on melted asadero cheese, topped with ranch, lettuce, onions & tomatoes, served with a side of waffle fries

Jr. Outlaw Burger                                                                 5


Kids size cheeseburger served with lettuce onions & tomatoes. Served with waffle fries

Grilled Cheese                                                                         6


Grilled cheese sandwich with American cheese and a side of fries

Chicken Tender Basket                                                           5


Fried chicken tenders served with a side of waffle fries and ranch dipping sauce

3 Leches/Choco Flan/Flan                               

3.5

Topped with caramel or chocolate

Spicy Mac & Cheese                                                           3


 

Ranch Style Beans                                                              1


 

Waffle Fries                                                                        2


 

Onion Rings                                                                       3


 

Corn                                                                                   1


 

Sweet Potato Fries                                                             3


 

Lemonade                                                                 

2

 

Tea                                                                            

2

 

Glass Coca Cola Products: Coke, Sprite, Fanta Pineapple, Fanta Strawberry, Fanta Orange, Topo Chico Twist & Lime

20 OZ Bottle: Diet Coke, Dr. Pepper                

4

 
Trusted By
These fine folks trusted the award-winning restaurant